Date: 27 Dec 2019 (Fri)
Time: 7.30pm to 9.00pm
Venue: The Buddhist Library, Level 2 Auditorium
Register Now!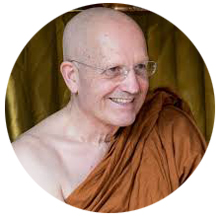 Ajahn Vajiro was born in Kuala Lumpur Malaysia in 1953.
He studied in England and obtained a degree in Economics in 1974. In 1979, he met Ajahn Chah and Ajahn Sumedho when they paid a visit to Hampstead Vihara in Oakenholt, England.
In 1979 he left for Thailand and in June 1980 received Upasampada (higher ordination) from Ajahn Chah. Ajahn Vajiro returned to England in 1984, where he assisted several monasteries. He lived for three years in retreat at the "Sanghaloka" hermitage in Australia, then returned to Amaravati in 2001 at the invitation of Luang Por Sumedho and was one of the monks who contributed most to the life and well-being of this monastery.
In 2010, the group in Portugal led by Maria Ferreira da Silva formally invited him to help establish a monastery of the Tradition of the Forest in Portugal. Ajahn Vajiro has pledged to lead the initiative for five years and from the beginning of Vassa 2012 (July), has moved to Portugal. Today he is the Abbot of Sumedharama.