Date: 16 Dec 2022 (Fri)
Time: 7.30pm – 9pm
Venue: The Buddhist Library, Level 2 Auditorium
Registration opens here on Fri 18 Nov 7.30PM!

If the Dharma works, why am I still suffering? Well, don't throw in the towel just yet. Venerable Thubten Chodron explains how to take the difficulties that are part of life in cyclic existence into our spiritual practice. By following the Buddha's teachings, we can transform whatever challenges we face into the causes for personal growth, liberation, and awakening.
TO NOTE BEFORE YOU REGISTER:
-Sravasti Abbey requests that participants at this talk wear a mask. Please do so, as a courtesy to Ven Thubten Chodron and all participants.
-Please attend once you register as seats are limited. The event will also be streamed live via FaceBook live.
About Ven. Thubten Chodron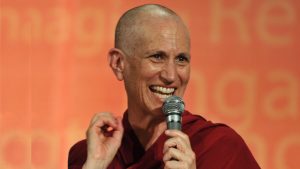 Venerable Thubten Chodron is an author, teacher, and the founder and abbess of Sravasti Abbey, a pioneering Tibetan Buddhist training monastery for Western nuns and monks in the US. She graduated from UCLA and did graduate work in education at USC. Ordained as a Tibetan Buddhist nun in 1977, she has studied extensively with His Holiness the Dalai Lama, Tsenzhap Serkong Rinpoche, and other Tibetan lamas. She received full ordination as a bhikshuni in 1986.
Venerable Chodron teaches worldwide and is known for her warm, practical, and humorous explanations of how to apply Buddhist teachings in daily life. She is also involved in prison outreach and interfaith dialogue. She has published many books on Buddhist philosophy and meditation and is currently assisting His Holiness the Dalai Lama in the writing and publication of The Library of Wisdom and Compassion, a multi-volume series of teachings on the Buddhist path. Visit thubtenchodron.org for a media library of her teachings, and sravastiabbey.org to learn more about Sravasti Abbey.