Date: 17 Dec 2017 (Sun)
Time: 2pm to 4pm
Venue: The Buddhist Library, Level 2 Auditorium
No registration needed. All are welcome.
View Video

More and better, cheaper and faster… Is it possible to find satisfaction in our modern world? Ven. Thubten Chodron shows us how the causes of fulfilment are not external but internal—and by freeing the mind from afflictions, we can taste the true joy of liberation.
About Ven. Thubten Chodron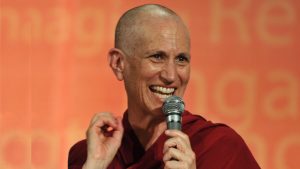 Venerable Thubten Chodron is an author, teacher, and the founder and abbess of Sravasti Abbey, one of the first Tibetan Buddhist training monasteries for Western nuns and monks in the US. She graduated from UCLA, and did graduate work in education at USC. Ordained as a Tibetan Buddhist nun in 1977, she has studied extensively with His Holiness the Dalai Lama, Tsenzhap Serkong Rinpoche, and Kyabje Zopa Rinpoche. She received full ordination as a bhikshuni in 1986.
Ven. Chodron teaches worldwide and is known for her practical (and humorous!) explanations of how to apply Buddhist teachings in daily life. She is also involved in prison outreach and interfaith dialogue. She has published many books on Buddhist philosophy and meditation, and is currently co-authoring with His Holiness the Dalai Lama a multi-volume series of teachings on the Buddhist path, The Library of Wisdom and Compassion. The first volume, Approaching the Buddhist Path, is available August 2017. Visit thubtenchodron.org for a media library of her teachings, and sravasti.org to learn more about Sravasti Abbey.