Date: 5 Jan (Fri) to 7 Jan (Sun) 2018
Time: 5 Jan: 8pm to 9.30pm, 6 Jan: 10am to 6pm, 7 Jan: 10am to 5pm
Venue: The Buddhist Library, Level 2 Seminar Room
Register Now

In this weekend course you will learn how to draw Offerings used in Tibetan Art, as well as one of the Offering Goddesses.

Offerings
The most famous set of offerings in Tibetan Buddhism: the Offerings of the 5 Senses.
It is through our senses of seeing, hearing, smelling, tasting and touching that we perceive the world we live in.
In Buddhist art they are painted in front of a Buddha, and can be used for making a connection with the Buddha.
Besides learning how to draw offerings in this course, you will learn everything about the background and meanings these offerings have in the Tibetan tradition.
Offering Goddesses
Strongly connected to the offerings are the Offering Goddesses, or Dakinis, beautiful female deities playing an instrument, or holding flowers or perfume for example.
Drawing these enlightened images is a meditation in itself and creates inner peace and joy.
This weekend is suitable for beginners and advanced. It is not necessary to have drawing experience.
Beginners will first draw a Buddha Face before moving on to the subject.
Carmen Mensink will guide students through the cultural/historical context of thangkas and symbolism within Tibetan-Buddhist art through the combination of art, slide shows and meditations. She also offers a lot of individual guidance this weekend.
Schedule
Friday evening Jan. 5: 20.00-21.30 Introduction with Lecture on the subject
Saturday Jan. 6: 10.00-18.00 Drawing sessions with an hour lunch break
Sunday Jan. 7: 10.00-17.00 Drawing sessions with an hour lunch break

Course fee (Cash Payment Only)
S$165 for Buddhist Library Members, S$200 for non-members
Materials
Paper will be provided and the use of drawing materials (pencil, ruler, eraser) is included as well.
In addition to this you may want to bring your own drawing materials and a good quality colored pencils (such as Prismacolor Premier, Caran d'Ache Luminance or Faber Castell Polychromos)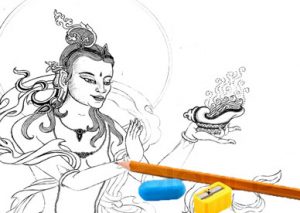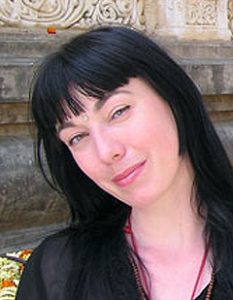 She's a painter & teacher of Tibetan Buddhist Art
Carmen was born in The Netherlands (Zwolle, 1972) and is based in Amsterdam. After her graduation as graphic designer at the Royal Academy of Art she worked for many years in design and advertising agencies.
Buddhism
From an early age on Carmen was interested in Buddhism, and after she became a Buddhist practitioner, she met her thangka painter teacher, the well-known Andy Weber. Captivated by the rich tradition and detailed craftsmanship of these Tibetan Buddhist paintings she started with him her many years of training, thirteen in total.
Thangka drawing & painting Classes
As is tradition within a thangka lineage, the teacher points out his successor(s), and in 2003 Andy told Carmen that it now was time for her to start teaching. It was something she never saw coming but took on with much love, passion and dedication. So in the beginning, when she was still working as a graphic designer, she started offering thangka classes in Amsterdam, which slowly expanded.
From 2008 on Carmen paints and teaches the art of thangka full time and travels around the world for it -her classes and