Date: 6 Apr – 8 Jun 2022 (Every Wed)
Time: 7.30pm – 9.00pm
Venue: The Buddhist Library, Level 2 Auditorium
Participants: Physical attendance
Moderator: Bhante Wimalajothi
Register Now!
1. Date: 6 Apr 2022
Presenter: Tham Weng Yew
Topic: Metta Sutta (SN 1.8)
2. Date: 13 Apr 2022
Presenter: Bhante Somananda
Topic: Parabhava Sutta (SN 1.6)
3. Date: 20 Apr 2022
Presenter: Bhante Wimalajothi
Topic: Subhasita Sutta (SN 3.3)
4. Date: 27 Apr 2022
Presenter: Jono Rusly
Topic: Vyaggapajja (Dighajanu) Sutta (AN 8.54)
5. Date: 4 May 2022
Presenter: Foo Siew Fong
Topic: Samannaphala Sutta (DN 2)
6. Date: 11 May 2022
Presenter: Bhante Wimalajothi
Topic: Sangaha Sutta (AN 4.32)
7. Date: 18 May 2022
Presenter: Nikko Tan
Topic: Ina Sutta (AN 6.45)
8. Date: 25 May 2022
Presenter: Bhante Somananda
Topic: Sigalovada Sutta (DN 31)
9. Date: 1 Jun 2022
Presenter: Ng Wai Chong
Topic: Kalama Sutta (AN 3.65)
10. Date: : 8 Jun 2022
Presenter: Wong Weng Fai
Topic: Dhammika Sutta (SN 2.14)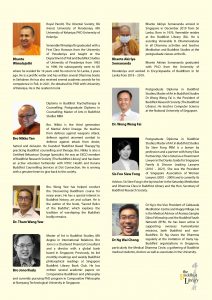 About The Moderator: Bhante Wimalajothi
Venerable Wiloye Wimalajothi arrived in Singapore in December 2012 from Sri Lanka. Born in 1961, the soft-spoken Venerable resides at the Buddhist Library (BL). He is assisting Venerable B. Dhammaratana in all Dhamma activities and teaches Pali and Buddhist Studies at the postgraduate classes at the BL.
Venerable Wimalajothi graduated with a First Class Honours from the University of Peradeniya and taught at the Department of Pali and Buddhist Studies of University of Peradeniya from 1992 to 1996. He subsequently went to UK where he resided for 14 years until his return to Sri Lanka, 2 years ago.
He is a prolific writer and has written several Dhamma books in Sinhalese. He has also received several academic awards for his competence in Pali.