Date: 23 Feb (Thu) to 5 Mar 2017 (Sun)
Time: Specific time will follow
Venue: Paramita International Buddhist Centre, No. 7 Kandy Road, Kadugannawa, Sri Lanka
REGISTRATION IS CLOSED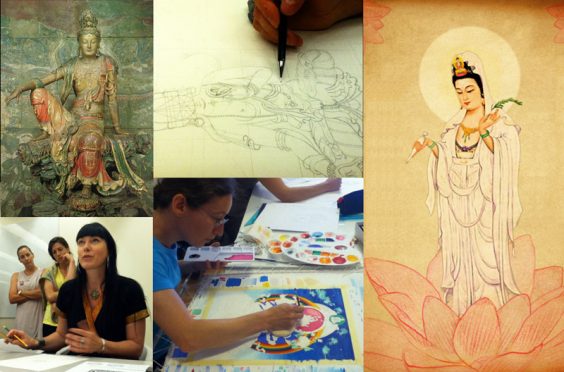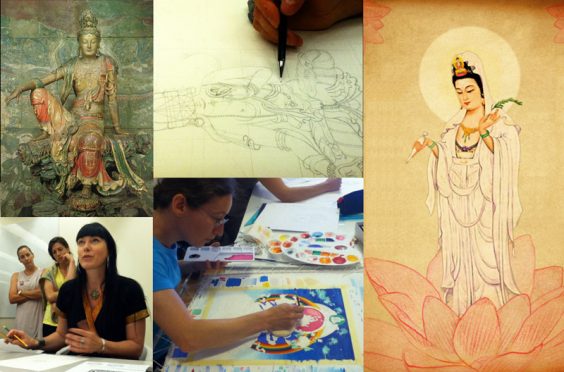 An amazing 11 day course including a 4 day sightseeing tour!
Organized by The Buddhist Library in Singapore – Buddhist Library Members get a S$210 discount
In this new retreat we will draw beautiful Guan Yin according to the tradition of Buddhist Thangka (scroll painting).
This Buddhist Art retreat is extra special, because it includes a sightseeing tour with the group where we will visit the best Buddhist sites in Sri Lanka. As people are coming from all over the world, this course is great to combine with vacation in Sri Lanka.
In different Buddhist traditions Guan Yin, also written as Kuan Yin or Guanshiyin, may be depicted as either a male or female manifestation of Compassion. Many Buddhist agree that Guan Yin came from the male Bodhisattva Avalokitesvara.
When Buddhism came from India to East-Asia and became popular, many Buddhists transformed Avalokitesvara into the female deity named Guan Yin. She's also known as the Goddess of Mercy.
The name Guan Yin is short for Guan Shi Yin, meaning "Observing the Sounds of the World," which indicates her compassionate ability to listen for pleas of help of those who need her. She is also associated with vegetarianism, due to her great compassion, that goes for animals as well.
In this retreat we will work with 2 different forms of Guan Yin, standing and sitting, and you will learn all about this beautiful deity (through slideshows & talks), and will also make contact with her energy of compassion through the meditations that we will do in the morning.
You can either choose to draw and color Guan Yin with colored pencils or paint your drawing and learn how to work with the special thangka (tibetan scroll) painting techniques. Experience is not necessary, enthusiasm is!
OPTIONAL: instead of Guan Yin you may also choose to draw/paint Buddha Shakyamuni or Avalokitesvara. If you prefer this, please let contact Carmen well ahead so she can prepare this for you.
You can also use this retreat to complete the thangka drawings and paintings that you've previously made in a course with Carmen.
SCHEDULE
Thu Feb 23: arrival, getting settled & introduction 
Bus transfer from Colombo Airport to the Paramita International Buddhist Centre in the afternoon (specific time will follow).
Get settled in your room and get shown around the center and the green gardens. We will get to know each other and share out first dinner together, after which the first evening starts with a lecture & introduction of the painting course & its subject Guan Yin.
Fri Feb 24 – Wed March 01: Buddhist drawing & painting course
All days start with a guided meditation in the morning (optional) and drawing sessions in the morning and afternoon.
Later in the week we will turn to coloring and/or painting sessions, and you will learn how to apply the special thangka painting techniques.
There will be a lot of individual guidance. In the evenings there will be free time, a lecture on buddhist art or a film.
Sunday afternoon (Feb. 26th) is free time and you can go for sightseeing (to Kandy or to the temples nearby for example) or relax and enjoy the nature & surroundings.
In the evening of Wed March 1st we will pack our bags and get ready for the exiting second part of this course: the 4 day/3 night sightseeing tour.
After your own Buddha drawing and painting experience you will be guaranteed to look with a different eye and appreciate the centuries old buddhist art even more.
Thu March 02: KADUGANNAWA – ANURADHAPURA
We are picked up and leave for Anuradhapura, one of the greatest and oldest civilizations in the world,  that used to be the greatest city of ancient Sri Lanka. We'll visit the Sri Maha Bodhi – the sacred Bo sapling extracted from the tree under which Lord Buddha attained enlightenment – standing more than 2200 years in its pride. You'll stroll through the sacred trails of the venerated city to adore the legacy that interweaves Ruwanweliseya – the gigantic dagoba resting alongside the Basawakkulama Tank – shading the Samadhi Buddha Statue & Isurumuniya Rock Temple that empower the culture, heritage and supremacy of arguably the strongest kingdom in Sri Lankan history.Lunch at a local restaurant. Dinner and overnight stay at the 3-star Hotel The Heritage.
Fri March 03: ANURADHAPURA – POLONNARUWA
After breakfast at our hotel we will leave for a Historic City Tour of Anuradhapura, after which we  will visit the city of Polonnaruwa – the medieval capital & crown jewel of King Parakramabahu I. This city remains superior proof of ancient culture & heritage blended with religious beliefs.
Walk across its scattered walls of the World Heritage Site – blessed by stupas, resting Buddha statues, irrigation canals and fantastically carved Hindu sculptures – while observing the relic house – Watadage – which boasts of beautiful stone carvings.
Take a close glance and you will realize a subtle Hindu influence on architecture and statues found in Polonnaruwa. Or sit by the side of Galviharaya and observe the absolute beauty gushing out of every bend of its huge Buddhist statues. Nissankamalla Council Chamber is however, a head-spinning beauty to just sit back and observe with its swaying pillars reminding the aesthetics of a powerful kingdom which rests beside Parakrama Samudraya – sea of Parakramabahu & masterpiece of irrigation.Lunch at a local restaurant. Dinner and overnight stay at the 3-star Hotel Sudu Araliya.
Sat March 04: POLONNARUWA – DAMBULLA
After breakfast at our hotel we will leave for Dambulla and visit the very famous Dambulla Rock Temple.
In the city of Dambulla lies a hub which has been treasured by many kings since the 1st century B.C. Today, an icon in the face of Sri Lanka, Dambulla Rock Temple houses some of the most unique drawings in magnificently constructed 5 cave temples flanking the golden temple of Dambulla. Observe how exquisitely cave paintings are done along walls that shelter 150 statues of Lord Buddha. As you enter the retreat, look straight up to the gigantic Buddha statue glittering in gold over a land, which today houses an important junction in the country's economic and cultural uplifting.Lunch at a local restaurant. Dinner and overnight stay at the 3-star Hotel Kassapa Lions Rock.Sun March 05: DAMBULLA – COLOMBO – KELANIYA – AIRPORT
After breakfast at our hotel we will leave for Colombo, the main city of Sri Lanka, and have lunch at a local restaurant.
We'll visit the Bellanwila Temple and the Kelaniya Temple. Kelaniya draws an illustrious significance towards the country along the channels of both culture and religion. Blended with an absolute importance following the visit of Lord Buddha to Sri Lanka, the Kelaniya temple thrives today drawing thousands of heads from all corners of the world. Built during the 3rd century B.C. today, Kelaniya lights up the entire city with its annual pageant 'Duruthu Maha Perahera' held in the months of January studded with fire dancers, majestic elephants and drummers that add to the glory of the religious and cultural fortress.Dinner at a local restaurant and (optional) transfer from Colombo to the Airport for departure.Some people of the group will be staying in Colombo for a few more days and/or will continue their vacation in Sri Lanka (for example the beach areas), or elsewhere in Asia (Southern India for example).
PRICE
Thangka Course fee, 7 nights stay & all meals in the Paramita International Buddhist Centre +
Sightseeing tour incl. 3 nights in hotel (based on double room), all entrance tickets, all meals & transfers

SGD Course S$645 + Sightseeing S$499 (single room supplement + S$160) = TOTAL S$ 1144 / Buddhist Library members pay only S$934
USD Course $465 + Sightseeing $360 (single room supplement + $115) = TOTAL $ 825
EURO Course €427 + Sightseeing €328 (single room supplement + €105) TOTAL € 755
---
Flights: You have to arrange your own flight to Colombo airport, the main city of Sri Lanka.
If you fly in from Singapore, please contact the Buddhist Library for group discount on flights. You will fly together and the Singapore-Colombo return ticket will be around S$500.
Free transport from Colombo airport to the Paramita Centre and vice versa will be provided on Thu 23rd and Sun 5th.
MATERIALS TO BRING
You can choose if you want to draw & color (advised for beginner students) or draw & paint (for advanced students):
For drawing (preferred for beginner thangka students):
2 large (A2 or larger) drawing paper, long 50cm ruler, (mechanical) pencil and eraser.
good quality colored pencils (such as Prismacolor Premier, Caran d'Ache Luminance or Faber Castell Polychromos)

For painting (for advanced):
A sturdy paper that is suitable for painting or a piece of prepared canvas (surface as fine and smooth as possible), a long 50cm ruler, a (mechanical) pencil, an eraser, gouache paints or acrylic paints and brushes (fine and medium). Download here the List of Materials
Easiest for traveling is to put the paper in a tube.
If you still have any questions regarding the course that you cannot find here, you can contact Carmen
WHERE
Paramita International Buddhist Centre
No. 7 Kandy Road
Kadugannawa
Sri Lanka
Kadugannawa is a town located in the Kandy District in the Central Province of Sri Lanka. It is situated approximately 100 km away from the Country's Capital – Colombo, along the A1, Colombo-Kandy Road. Paramita Meditation Centre is also situated along this route, and within 100 metres of the famous landmark Kadugannawa Rock Tunnel, known locally as "Gala widapu thena".
Website: Paramita International Buddhist Centre
REGISTRATION
Please register by 19 Jan with The Buddhist Library to be sure of your place – And the sooner you register the sooner we can let everybody know we have enough participants and you can look for a ticket (cheaper when booking early)
This can be done by sending an email to Koon Teck: koonteck@buddhlib.org.sg, calling (+65) 6746-8435 (Tues-Sat: 12:00 noon – 9:00pm /
Sun: 10:00am – 9:00pm / closed on Mondays)