Date: 23 Feb (Thu) to 5 Mar 2017 (Sun)
Time: Specific time will follow
Venue: Paramita International Buddhist Centre, No. 7 Kandy Road, Kadugannawa, Sri Lanka
REGISTRATION IS CLOSED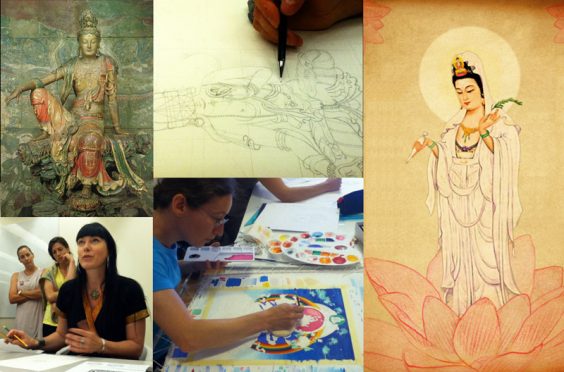 An amazing 11 day course including a 4 day sightseeing tour!
Organized by The Buddhist Library in Singapore – Buddhist Library Members get a S$210 discount
In this new retreat we will draw beautiful Guan Yin according to the tradition of Buddhist Thangka (scroll painting).
This Buddhist Art retreat is extra special, because it includes a sightseeing tour with the group where we will visit the best Buddhist sites in Sri Lanka. As people are coming from all over the world, this course is great to combine with vacation in Sri Lanka.
In different Buddhist traditions Guan Yin, also written as Kuan Yin or Guanshiyin, may be depicted as either a male or female manifestation of Compassion. Many Buddhist agree that Guan Yin came from the male Bodhisattva Avalokitesvara.
When Buddhism came from India to East-Asia and became popular, many Buddhists transformed Avalokitesvara into the female deity named Guan Yin. She's also known as the Goddess of Mercy.
The name Guan Yin is short for Guan Shi Yin, meaning "Observing the Sounds of the World," which indicates her compassionate ability to listen for pleas of help of those who need her. She is also associated with vegetarianism, due to her great compassion, that goes for animals as well.
In this retreat we will work with 2 different forms of Guan Yin, standing and sitting, and you will learn all about this beautiful deity (through slideshows & talks), and will also make contact with her energy of compassion through the meditations that we will do in the morning.
You can either choose to draw and color Guan Yin with colored pencils or paint your drawing and learn how to work with the special thangka (tibetan scroll) painting techniques. Experience is not necessary, enthusiasm is!
OPTIONAL: instead of Guan Yin you may also choose to draw/paint Buddha Shakyamuni or Avalokitesvara. If you prefer this, please let contact Carmen well ahead so she can prepare this for you.
You can also use this retreat to complete the thangka drawings and paintings that you've previously made in a course with Carmen.
SCHEDULE
Thu Feb 23: arrival, getting settled & introduction 
Bus transfer from Colombo Airport to the Paramita International Buddhist Centre in the afternoon (specific time will follow).
Get settled in your room and get shown around the center and the green gardens. We will get to know each other and share out first dinner together, after which the first evening starts with a lecture & introduction of the painting course & its subject Guan Yin.
Fri Feb 24 – Wed March 01: Buddhist drawing & painting course
All days start with a guided meditation in the morning (optional) and drawing sessions in the morning and afternoon.
Later in the week we will turn to coloring and/or painting sessions, and you will learn how to apply the special thangka painting techniques.
There will be a lot of individual guidance. In the evenings there will be free time, a lecture on buddhist art or a film.
Sunday afternoon (Feb. 26th) is free time and you can go for sightseeing (to Kandy or to the temples nearby for example) or relax and enjoy the nature & surroundings.
In the evening of Wed March 1st we will pack our bags and get ready for the exiting second part of this course: the 4 day/3 night sightseeing tour.
After your own Buddha drawing and painting experience you will be guaranteed to look with a different eye and appreciate the centuries old buddhist art even more.
Thu March 02: KADUGANNAWA – ANURADHAPURA
We are picked up and leave for Anuradhapura, one of the greatest and oldest civilizations in the world,  that used to be the greatest city of ancient Sri Lanka. We'll visit the Sri Maha Bodhi – the sacred Bo sapling extracted from the tree under which Lord Buddha attained enlightenment – standing more than 2200 years in its pride. You'll stroll through the sacred trails of the venerated city to adore the legacy that interweaves Ruwanweliseya – the gigantic dagoba resting alongside the Basawakkulama Tank – shading the Samadhi Buddha Statue & Isurumuniya Rock Temple that empower the culture, heritage and supremacy of arguably the strongest kingdom in Sri Lankan history.Lunch at a local restaurant. Dinner and overnight stay at the 3-star Hotel The Heritage.
Fri March 03: ANURADHAPURA – POLONNARUWA
After breakfast at our hotel we will leave for a Historic City Tour of Anuradhapura, after which we  will visit the city of Polonnaruwa – the medieval capital & crown jewel of King Parakramabahu I. This city remains superior proof of ancient culture & heritage blended with religious beliefs.
Walk across its scattered walls of the World Heritage Site – blessed by stupas, resting Buddha statues, irrigation canals and fantastically carved Hindu sculptures – while observing the relic house – Watadage – which boasts of beautiful stone carvings.
Take a close glance and you will realize a subtle Hindu influence on architecture and statues found in Polonnaruwa. Or sit by the side of Galviharaya and observe the absolute beauty gushing out of every bend of its huge Buddhist statues. Nissankamalla Council Chamber is however, a head-spinning beauty to just sit back and observe with its swaying pillars reminding the aesthetics of a powerful kingdom which rests beside Parakrama Samudraya – sea of Parakramabah