Date: Every Sun from 8 Mar 2015 onwards for 12 lessons
Time: 4.00pm to 6.00pm
Fees: $50 (BL Members), $60 (Non Members)
Trainer:
Venerable Wiloye Wimalajothi
Venue: Buddhist Library, Level 2
DOWNLOAD THE REPLY FORM TO REGISTER NOW!
About the Course
Pali is the language used to preserve the Buddhist canon of the Theravada Buddhist tradition, which is regarded as the oldest complete collection of Buddhist texts surviving in an Indian language. To learn the Pali language, one can do self-study, using online references or books. Many people find that they learn better in a group, either in a classroom setting or in a study group. For many of us, the goal is not to become expert of the language, but simply to learn the basics of the language to help us understand the suttas and the Buddha's teachings better.
About The Trainer: Venerable Wiloye Wimalajothi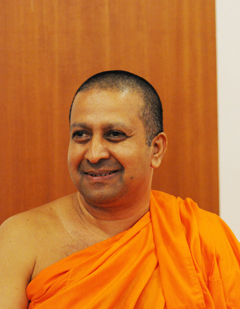 Venerable Wiloye Wimalajothi
arrived in Singapore in December 2012 from Sri Lanka. Born in 1961, the soft-spoken Venerable resides at the Buddhist Library (BL). He is assisting
Venerable B. Dhammaratana
in all
Dhamma
activities and teaches Pali and Buddhist Studies at the postgraduate classes at the BL.
Venerable Wimalajothi graduated with a First Class Honours from the University of Peradeniya and taught at the Department of Pali and Buddhist Studies of University of Peradeniya from 1992 to 1996. He subsequently went to UK where he resided for 14 years until his return to Sri Lanka, 2 years ago.
He has also received several academic awards for his competence in Pali.