Time
Activity
8am
Morning Puja (English & Pali) and Blessings
法会和僧众祈福(以巴利文和英文诵念)
9am
Chanting of Eighty-Eight Buddhas Repentance Text by Ven Seck Wan Chin (Chinese)
由远青法师带领以中文诵念《八十八佛大忏悔文》
10am
Flower Arrangement Demo followed by Offerings to the Buddha
由Ken师兄带领花艺示范和供花献佛(数量有限)
10.30am
Bathing of Prince Siddhartha
浴佛
11am
Puja Chanting and Blessings (English and Pali)
法会和僧众祈福(以巴利文和英文诵念)
11.30am
Vesak Address By Bhante Dhammaratana followed by Dana for Mahasangha
达摩拉哒那法师卫塞节致辞及供僧仪式
12pm
Vegetarian Lunch
素食午餐
1pm
Performances by BL Sunday School
佛教图书馆周日班学生表演
1.30pm – 6.30pm
Blessings by Bhantes
僧众祈福
1.30pm
Forum on Emotional Bonding – Connecting with Your Children The Buddhist Way by Bro Sean Liew
师兄开讲*《情感交流 – 用佛法与孩子们联系》
3pm
Tea Break
茶点
3.30pm
Movie Screening Travellers and Magicians by Khyentse Norbu
播放由宗薩蔣揚欽哲仁波切导演的电影《旅行者与魔术师》
7pm
Light Transference Ceremony
传灯仪式
7.30pm
Puja Chanting and Blessings (English and Pali)
法会和僧众祈福(巴利文和英文)
8pm
Dharma Talk Significance of Vesak Day by Bhante Dhammika
开示《卫塞节的意义》
8.45pm
Light Refreshments
茶点
*Special Puja on 31 May (Eve of Vesak Day), 7.30pm
Donations for THK Bedok Radiance SAC Elderly
We will be giving ang baos and goodie bags for the THK Bedok Radiance SAC Elderly. We will also be providing 2 way transportation to share the joy of Vesak by ferrying them to the Library for lunch. As such, we seek your support to donate any amount to defray these costs.
Ways to Donate
By Cheque – Please make payment to "Buddhist Research Society". Kindly indicate "Donation for THK Bedok Radiance SAC Elderly" at the back of the cheque.
By Cash/Netts – Please inform the counter staff that the donation is for THK Bedok Radiance SAC Elderly for Vesak Day 2559.
Interested buyers please bring your cheque books as payment is via cash or cheques only.
About the Artist: Kalasuri Dr. Jayasiri Semage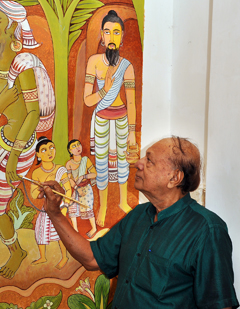 Semage has become an icon in the Sri Lankan art sphere with his unique style. Conquering the local and foreign art galleries he promoted his unique Sri Lankan painting styles and the country's name simultaneously from 1956. Like Geoffrey Bawa or Solias Mendis, today, Semege too has become a landmark in the history of Sri Lankan art.
Semage was born in a small fishing village in Ambalangoda and received his education from Ambalangoda Dharmashoka Vidyalaya.He self-taught himself at the beginning, while at school. Later on, while still at school, he passed all examinations held by the Royal Academy School of Arts, London and became the first child artist to hold a solo painting exhibition at the Art Gallery in 1957.