Bhante considered a library as an important social service to the community and he once said: "To start a Buddhist library in Singapore is better than to start ten temples". This is not because he does not believe in the benefits of having temples but because he considers education to have "long-term benefits and to be more useful for people to lead a meaningful and purposeful life". Moreover, Bhante maintains that "knowledge can be passed down from one generation to another. In the long run, education contributes towards fostering a caring and sharing society with less social ills."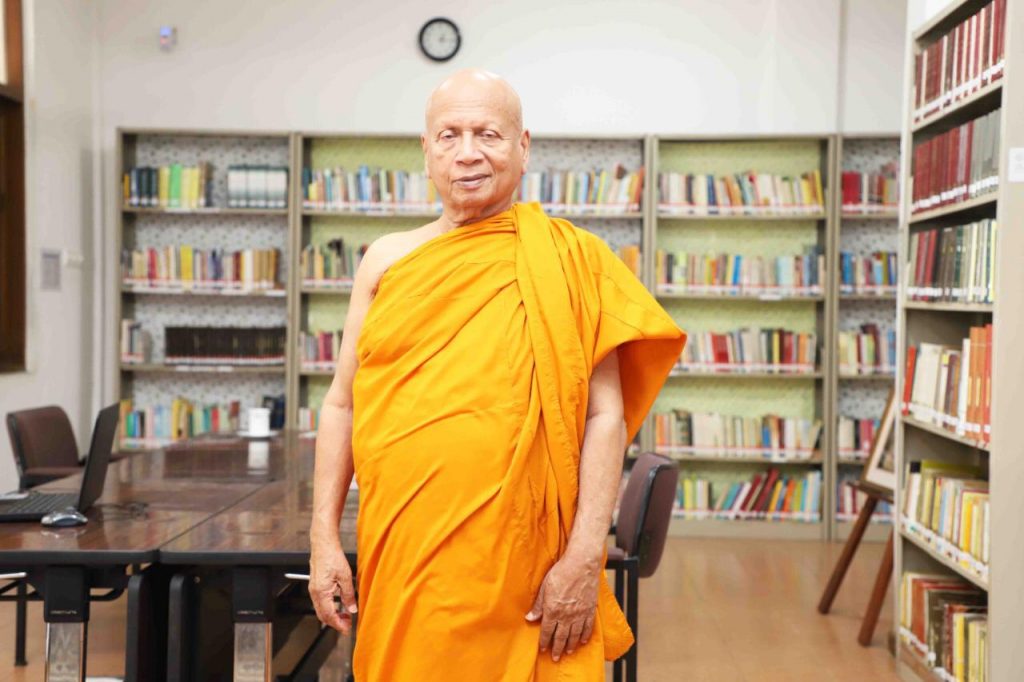 The Buddhist Library Opening Ceremony
Venerable Bellanwila Dhammaratana, or more affectionately addressed as Bhante, is the founding and pivotal figure of the Buddhist Library (BL). He gave up a ready-made life of an abbot in the well-established Bellanwila Temple located near Colombo in Sri Lanka, to pursue his vision of creating in Singapore 'a door to learning' for the benefit of humanity.
In 1981, Bhante founded the Buddhist Research Society (BRS) and established the first dedicated Buddhist book service in Singapore. In 2004, Bhante was appointed the Chief Sangha Nayaka of Singapore by Kotte Sri Kalyani Samagri Dhama Maha Sangha Sabha.
Bhante's Background
Bhante was born in Sri Lanka and received his Buddhist ordination at the age of 13. In 1973, Bhante left Sri Lanka for Dhammaduta activities (i.e. to make available the Buddha's teachings) in Singapore at the invitation of Venerable M. Mahavihara. He is the senior pupil of the late Venerable Bellanwila Sri Somaratana Nayaka Thera. He, a student of Vidyalankara Pirivena, is a graduate of Vidyalankara University.
After graduation, Bhante served as the Deputy Principal and Principal at two prestigious seats of learning, Sunethradevi Pirivena and Paramadhamma Chetiya Pirivena, respectively. In 2003, Bhante obtained his Master of Philosophy Degree from the University of Kelaniya, Sri Lanka. In 1999, Bhante founded a meditation retreat centre, the Paramita Meditation Centre, located at Kadugannawa, Sri Lanka, with the assistance of Buddhist devotees from Singapore. Bhante is concurrently the present chief incumbent of Bellanwila Rajamaha, a well-established Buddhist temple located close to Colombo in Sri Lanka.
Most, if not all Buddhists in Singapore, would have come across the Buddhist Library, at some point in their pursuit of the teachings of the Buddha. the Buddhist Library, founded in 1982… is the first public Buddhist book service in Singapore. Its non sectarian approach in encouraging the study of Buddhism has brought together many devoted Buddhists from different traditions."
– Venerable Shi Ming Yi
Bhante's Vision for the Library
Bhante chose Buddhist education as his 'vocation in life' and forged a path few would venture to take. A man of vision, determination and courage, in 1978, Bhante started his Buddhist education service in Singapore in a garage at 85A Marine Parade Road.
Bhante shares his inspiration on starting the BL with this note: "Nostalgic reflections take me down memory lane stretching back to the early 80s, to the time when we started the Buddhist Library in a small rented unit in Tanjong Katong Shopping Centre located at East Coast Road, Singapore in July 1984. […] With a vision for the future, we started, on a modest scale, to build a library of Buddhist literature covering all three major schools of Buddhism – Theravada, Mahayana and Vajrayana. We made this the nucleus and around it we built various affiliated activities to promote the learning and practice of the noble teachings of the Buddha." His vision is that one day the BL would earn international recognition as "a Buddhist centre of excellence".
Bhante considered a library as an important social service to the community and he once said: "To start a Buddhist library in Singapore is better than to start ten temples". This is not because he does not believe in the benefits of having temples but because he considers education to have "long-term benefits and to be more useful for people to lead a meaningful and purposeful life". Moreover, Bhante maintains that "knowledge can be passed down from one generation to another. In the long run, education contributes towards fostering a caring and sharing society with less social ills." Indeed, the BL has accomplished its vision of promoting the learning and practice of Buddhism.