Date:  19 Apr 2019 (Good Friday)
Time: 9.00am to 5.00pm
Venue: The Buddhist Library, Auditorium
Fees: $15 (Lunch provided)
Trainers: Foo Siew Ee, Foo Siew Fong, M J Lee, Tan Sock Hoon
Consultant: Bhante Dhammaratana
Click here to Register. ALL ARE WELCOME!

Why do people meditate? If I cannot calm down my mind with meditation on mindfulness of breathing, are there any other techniques I can use?
How do I develop better awareness of mind and body?  What are the differences between samātha (calmness) meditation & vipassanā (insight) meditation? If I want to start practising Dhamma, what do I do first?
This Meditation & Dhamma Retreat will give you the answers to these questions.  There will be guided meditation sessions introducing different themes as well as talks on the Dhamma practice with focus on meditation techniques.  This class is open to both meditators as well as those who wish to learn the basics of meditation.
| Time | Activity |
| --- | --- |
| 9.00am | Homage to Triple Gem |
| 9.15am | Meditation Session |
| 9.45am | Dhamma Talk: "Bhāvanā"(Mental Cultivation) Q & A |
| 11.00am | Mindfulness of Breathing meditation |
| 11.30am | Lunch |
| 1.30pm | Mettā Bhāvanā (Loving-Kindness Meditation) |
| 2.15pm | Dhamma Talk: "Contemplation of Body" (including meditation) Q & A |
| 3.30pm | Tea-break |
| 3.45pm | Contemplation of Loathsomeness of Body |
| 4.30pm | Q&A |
| 4.45pm | Transference of Merits |
| 5.00pm | End of Retreat |
About Bhante. Dhammaratana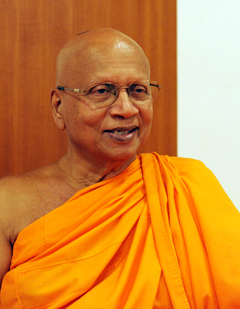 Bhante was born in Sri Lanka and received his Buddhist ordination at the age of 13. In 1973, Bhante left Sri Lanka for Dhammaduta activities (i.e. to make available the Buddha's teachings) in Singapore at the invitation of Venerable M. Mahavihara. He is the senior pupil of the late Venerable Bellanwila Sri Somaratana Nayaka Thera. He, a student of Vidyalankara Pirivena, is a graduate of Vidyalankara University.
After graduation, Bhante served as the Deputy Principal and Principal at two prestigious seats of learning, Sunethradevi Pirivena and Paramadhamma Chetiya Pirivena, respectively. In 2003, Bhante obtained his Master of Philosophy Degree from the University of Kelaniya, Sri Lanka. In 1999, Bhante founded a meditation retreat centre, the Paramita Meditation Centre, located at Kadugannawa, Sri Lanka, with the assistance of Buddhist devotees from Singapore. Bhante is concurrently the present chief incumbent of Bellanwila Rajamaha, a well-established Buddhist temple located close to Colombo in Sri Lanka.