Date: 9 to 10 Dec 2023
Time: 9am-5pm on both days (day camp, no overnight stay)
Venue: Buddhist Library
Commitment fee: $50
Click here to register
About this program

Our Sunday School programmes have shown themselves to be fun and effective, and this camp aims to provide an equally meaningful programme for your child. Sign up for a space for your child at this 2-day Mindfulness Camp!
Highlights of the camp will include "Make our own lunch!" and Mindful Eating, interactive activities and games, and an upcycling activity: "Make our own waterbottle holder."
Details on trainers are below.
Who is this program for? 
Suitable for children Pri 3 – 5 as of the year 2023.
Instructions for parents:
Please drop your child off at the Buddhist Library by 9AM each day of the camp.
Payment details will be sent to you via email after you register, and admin details will be sent to your email closer to date (e.g. please bring waterbottle, pencil case, etc.)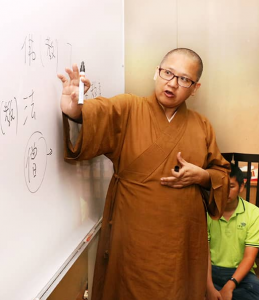 Venerable Fa Xun

Ven Fa Xun is a Singaporean Buddhist monastic who is passionate about sharing the practice and benefits of secular mindfulness with the wider community.
She holds a Bachelor of Arts and Education degree from the University of Western Australia, and has designed a mindfulness programme "Mindfulness and Loving Kindness (M.I.L.K.) in Education" as part of her Masters Degree, which was piloted in a primary school in Singapore.
She takes delight in designing programmes and games to address the emot