Date: 12 Dec 2017 (Tue)
Time: 7.30pm to 9.00pm
Venue: The Buddhist Library, Level 2 Auditorium
View Video

"People go through life blindly, ignoring death like revellers at a party feasting on fine foods. They ignore that later they will have to go to the toilet, so they do not bother to find out where there is one. When nature finally calls, they have no idea where to go and are in a mess." ~ Ajahn Chah~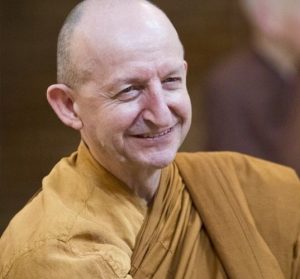 Born in England in 1956, Ven. Amaro Bhikkhu received honours BSc. degree in Psychology and Physiology from the University of London. Spiritual searching led him to Malaysia, Indonesia and Thailand, where he went to Wat Pah Nanachat, a Forest Tradition monastery established for Western disciples of Thai meditation master Ajahn Chah, who ordained him as a bhikkhu in 1979. Soon afterwards he returned to England and joined Ajahn Sumedho to help established Chithurst Monastery. He resided for many years at Amaravati Buddhist Monastery, making trips to California every year during the 1990s. In June 1996 he established Abhayagiri Monastery in Redwood Valley, California, where he was co-Abbot with Ajahn Pasanno until 2010. He then returned to Amaravati to become Abbot of this large monastic community.
Ajahn Amaro has written a number of books. In 1983 with the blessing of his abbot, he moved to Harnham Vihara in Northumberland. He made the entire 830-mile journey on foot, chronicled in his 1984 volume Tudong: The Long Road North. He republished in the expanded book Silent Rain. His other publications include Small Boat, Great Mountain (2003), Rain on the Nile (2009) and The Island – An Anthology of the Buddha's Teachings on Nibbana (2009) co-written with Ajahn Pasanno, a guide to meditation called Finding the Missing Peace and other works dealing with various aspects of Buddhism.
On December the 5th, 2015, Luang Por Pasanno, of Abhayagiri Monastery in California, and Ajahn Amaro, of Amaravati Monastery in England, were given the honorary titles of Jao Khun by H.M. the King of Thailand, in a ceremony at the Temple of the Emerald Buddha. Luang Por Pasanno received the new name Bodhiñāṇavides, resonating Luang Por Chah's honorific name of Bodhiñāṇathera, whilst Ajahn Amaro received the name Videsabuddhiguṇa. Both the senior Sangha bear the every wholesome qualities that such public recognition is designed to encourage.