Date: 5 Jul 2016 onwards, Every Tues for 15 lessons*
Time: 7.30pm to 9.30pm
Venue: Buddhist Library, Level 2 Auditorium
Trainers: Bhante Dhammaratana & Ven. Wimalajothi
Guided Meditation Towards Vipassana

Need guidance for Meditation? Let our Bhantes show you how!
*No lesson on National Day 09 Aug (Tue)
About The Teacher: Bhante B. Dhammaratana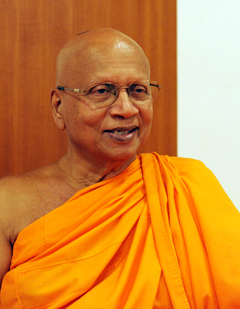 Bhante was born in Sri Lanka and received his Buddhist ordination at the age of 13. In 1973, Bhante left Sri Lanka for Dhammaduta activities (i.e. to make available the Buddha's teachings) in Singapore at the invitation of Venerable M. Mahavihara. He is the senior pupil of the late Venerable Bellanwila Sri Somaratana Nayaka Thera. He, a student of Vidyalankara Pirivena, is a graduate of Vidyalankara University.
After graduation, Bhante served as the Deputy Principal and Principal at two prestigious seats of learning, Sunethradevi Pirivena and Paramadhamma Chetiya Pirivena, respectively. In 2003, Bhante obtained his Master of Philosophy Degree from the University of Kelaniya, Sri Lanka. In 1999, Bhante founded a meditation retreat centre, the Paramita Meditation Centre, located at Kadugannawa, Sri Lanka, with the assistance of Buddhist devotees from Singapore. Bhante is concurrently the present chief incumbent of Bellanwila Rajamaha, a well-established Buddhist temple located close to Colombo in Sri Lanka.
About The Teacher: Venerable Wiloye Wimalajothi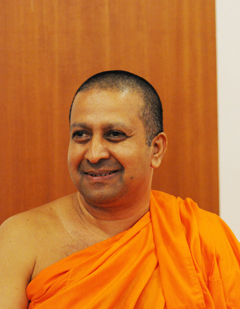 Venerable Wiloye Wimalajothi arrived in Singapore in December 2012 from Sri Lanka. Born in 1961, the soft-spoken Venerable resides at the Buddhist Library (BL). He is assisting Venerable B. Dhammaratana in all Dhamma activities and teaches Pali and Buddhist Studies at the postgraduate classes at the BL.
Venerable Wimalajothi graduated with a First Class Honours from the University of Peradeniya and taught at the Department of Pali and Buddhist Studies of University of Peradeniya from 1992 to 1996. He subsequently went to UK where he resided for 14 years until his return to Sri Lanka, 2 years ago.
He has also received several academic awards for his competence in Pali.