Sunday Dhamma School for the Youth
When: Every Sunday
Time: 10.00 am to 12.00 noon
Fee: SGD$30 per student per year
How to enrol: Throughout the year
Contact us for more details.
The Buddhist Library Sunday Dhamma School for the youth aims:
to introduce the Life Story of Buddha to all students.
to inspire and engage the students in understanding the Buddha's teachings.
to help students apply what they have learnt in Sunday School to their day to day life through discussions.
Curriculum includes but not limited to the followings:
Life story of the Buddha
One Life 5 Precepts
Sutta discussions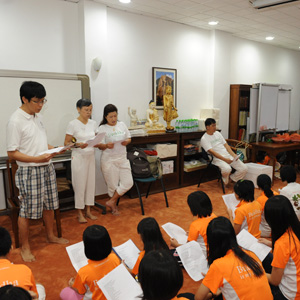 Photo credit: Tan Yew Beng
Delivery of the teaching is a combination of pedagogical approaches which include expository delivery, open discussions, videos and learning journeys.
The school takes place every Sunday at Buddhist Library from 10.00 am to 12.00 noon. Enrolment can be done throughout the years. Fee is subsidised by Buddhist Library up to SGD 30 per student per year.
Young Buddhist Leaders Programme
The Sunday School is currently in the process of identifying students for leadership development. The students will undergo a leadership training programme to be held at the end of the year. Students who successfully completed the training programme will serve as student leaders for the Sunday School and the Buddhist Library.
Recruitment Drive for Teachers
The Sunday School is currently recruiting more teachers to lead the classes. If you enjoy interacting with children and young adults, and you are comfortable in sharing your Dhamma knowledge. Join us!