Date: 14 Mar to 20 Jun 2017 (Every Tue for 15 lessons)
Time: 7.30pm – 9.30pm
Venue: The Buddhist Library, Level 2 Auditorium
Speaker: Bhante Dhammaratana
Free: All are Welcome
REGISTER NOW!
Dukkha or Suffering is the first noble truth that Lord Buddha has taught us about life. Suffering comes from the state of mind that we are in when we encounter dissatisfaction in life. Very often, these are caused by our inability to manage our emotions. Let Bhante Dhammaratana teach us how to deal with our emotions through meditation.
About Bhante Dhammaratana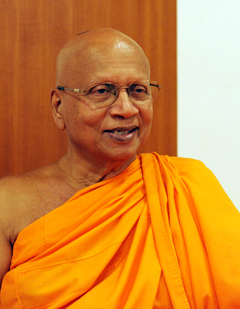 Venerable Bellanwila Dhammaratana, or more affectionately addressed as Bhante, is the founding and pivotal figure of the Buddhist Library (BL). He gave up a ready-made life of an abbot in the well-established Bellanwila Temple located near Colombo in Sri Lanka, to pursue his vision of creating in Singapore 'a door to learning' for the benefit of humanity.
In 1981, Bhante founded the Buddhist Research Society (BRS) and established the first dedicated Buddhist book service in Singapore. In 2004, Bhante was appointed the Chief Sangha Nayaka of Singapore by Kotte Sri Kalyani Samagri Dhama Maha Sangha Sabha.
Bhante's Background
Bhante was born in Sri Lanka and received his Buddhist ordination at the age of 13. In 1973, Bhante left Sri Lanka for Dhammaduta activities (i.e. to make available the Buddha's teachings) in Singapore at the invitation of Venerable M. Mahavihara. He is the senior pupil of the late Venerable Bellanwila Sri Somaratana Nayaka Thera. He, a student of Vidyalankara Pirivena, is a graduate of Vidyalankara University.
After graduation, Bhante served as the Deputy Principal and Principal at two prestigious seats of learning, Sunethradevi Pirivena and Paramadhamma Chetiya Pirivena, respectively. In 2003, Bhante obtained his Master of Philosophy Degree from the University of Kelaniya, Sri Lanka. In 1999, Bhante founded a meditation retreat centre, the Paramita Meditation Centre, located at Kadugannawa, Sri Lanka, with the assistance of Buddhist devotees from Singapore. Bhante is concurrently the present chief incumbent of Bellanwila Rajamaha, a well-established Buddhist temple located close to Colombo in Sri Lanka.