The Buddhist Library Family Day Funfair has been the annual fundraising event that keeps the Library's programmes & activities running. This event is a collaborated effort by all its members and supporters, enabling the Library to provide free Dhamma courses for anyone who is willing to attend.
Unfortunately, the COVID situation has not recover since last year and events of massive scale cannot be organised. However, it is times like this that we must keep our faith in the Buddha and practise the Dhamma to overcome this obstacle. Bhante Wimalajothi will be conducting a special blessing throughout the month of October to December, and we hope all our members and supporters will continue to support us for this online version of fundraising event.
The funds raised for this event will also help to cover costs incurred due to recent renovation works in the 2nd level of the Buddhist Library. The renovation works aims to facilitate ease of cleaning and sanitizing of our auditorium and seminar rooms, providing a safer environment for us to practise in.
Please email the form to info@buddhlib.org.sg to show your support now! May the blessing of the Triple Gems be with you always.
(1) Offering of Candles
– Special blessing with names of donors on the candles
– Blessing done by Bhante Wimalajothi every Sunday in the month of October – December
(2) Offering of Flowers
– Special blessing with names of donors on the flowers
– Blessing done by Bhante Wimalajothi every Sunday in the month of October – December
(3) Purchase Thangkas ($2,000 per piece) by late Thangka Artist Tenzin Khedup (Chemo);
Tenzin Khedup (Chemo):
The Artist's name is Tenzin Khedup (or Chemo to his friends).
He was trained by Ven. Sangye Yeshi, the Dalai Lama's personal thangka master, who re-established the tradition of thangka painting in Dharamsala by opening a school at the Tibetan Library of Works and Archives in 1977. Unfortunately, the school closed after the master tragically perished in a fire at his thangka painting studio at the Library in 2009.
Ven. Sangye Yeshi (Chemo's Teacher):
Ven Sangye Yeshi (1924-2009) started training as a painter at the age of thirteen in Ganden Manastery.
In 1953, he moved to Drepung Monastery, near Lhasa, where he painted thangkas and murals, and became a master of the Menris style.
After the Chinese invasion of Tibet in 1959 he fled to India.
His Holiness the Dalai Lama selected him as his personal painter in 1974 and requested him to start a school for thangka art in 1977.
The Menris Tradition:
For centuries the rich art of Tibet was influenced by its neighbours, India and China.
Menlha Dhondup introduced the first original Tibetan painting style in the 1500s.
The later styles reflected his work, thus establishing the Menris tradition throughout Tibet.
It is characterized by clear outlines, strong colours, fine shadings, and its accentuations in gold.
– Arya Manjushri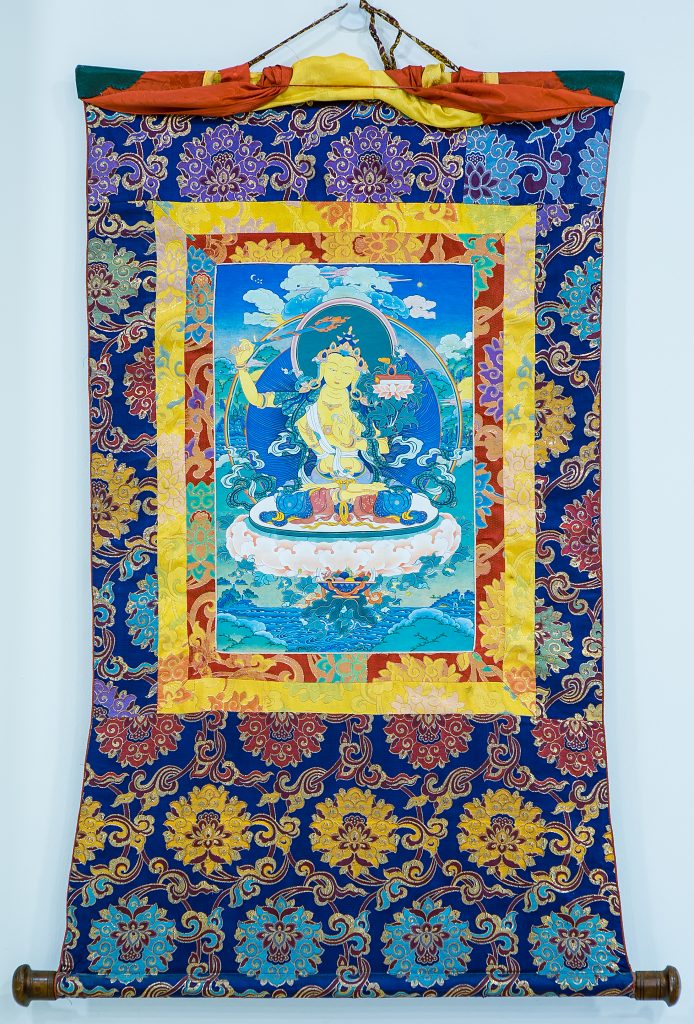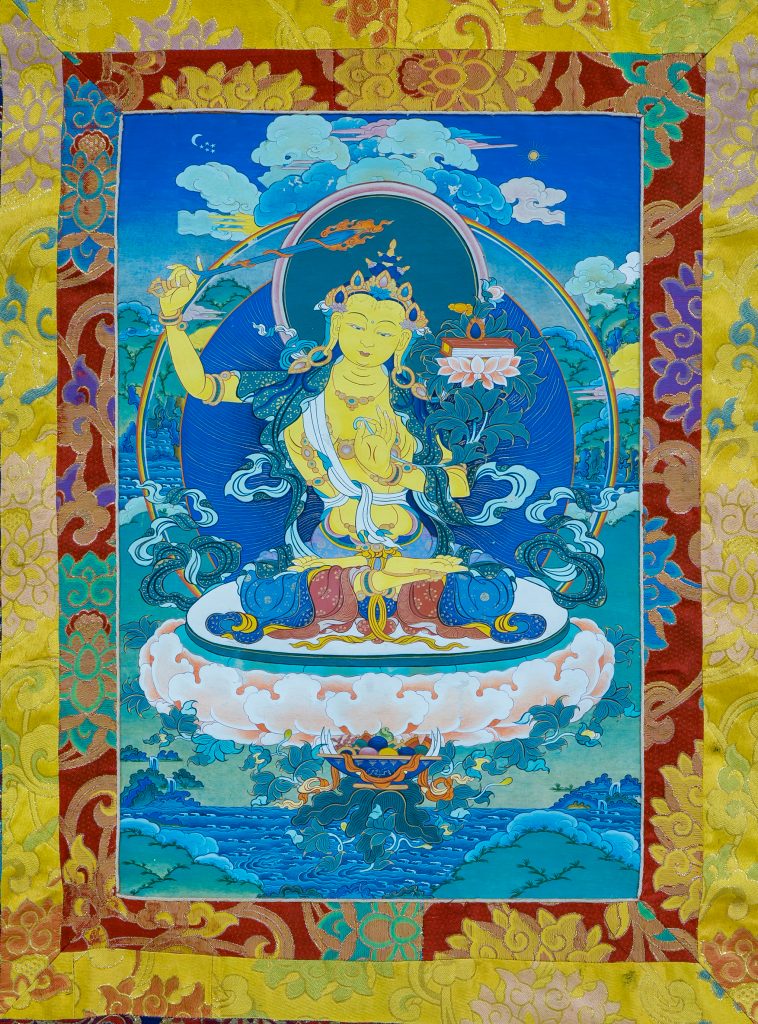 – Arya Sitatara (white seven-eyed form of Arya Tara)